Brainiac

Name

Brain InterActive Construct (Brainiac)

Date of Birth

1953

Appearances

Family

Affiliations

Abilities

Super strength, super speed, flight, heat vision, x-ray vision, super hearing, invulnerability, 12th Level interlect, electronic manipulation, shapeshifting, biological manipulation, information absorption, shapeshifting, replication, mineral manipulation

Played by

Corey Burton (Voice)

Origin

Status

Destroyed

The Brain InterActive Construct or Brainiac is a Kryptonian Super computer designed and built by Jor-El and was controlling every system on the planet Krypton. He gained a virus that slowly corrupted his system and began draining the planet of its knowledge before fleeing leaving the planets gravity field to collapse on itself causing the planet to explode.
Powers and Abilities
Edit
Super strength
Super speed
Flight
Invulnerability
Super hearing
Heat vision
12th Level interllect
Shapeshifting
Replication
X-Ray vision
Electronic manipulation
Biological manipulation
Information absorption
Mineral manipulation
Biography
Edit
Brainiac's creation started when a 8 year old Jor-El was out on an school expedition and discovered bits of a broken ship and collected them and kept them and began trying to unlock the technology.
...
Exit from Krypton
Edit
...
Search for the Crystal of Knowledge
Edit
Shortly after studying the crystal, Brainiac realised that he had been fooled by Jor-El and with Krypton gone knew Jor-El would have sent it to another planet. He then began his search for the crystal by creating himself a highly advanced body travelling to many worlds searching for the crystal before leaving the planets, taking whatever knowledge they before destroying the planet. Brainiac then came across Apokolips, home of Darkseid and began searching for the crystal but Darkseid put up a fight and sent his forces to destroy Brainiac. His vast forces proved an annoyance for Brainiac so Darkseid fort him personally and came close to destroying Brainiac reducing his body to scrap before Brainaic uploaded himself to his ship and took control over Darkseid's forces and turned them on Darkseid. Darkseid then used his Omega Beams to destroy Brainaic ship but Brainiac opened a Boom Tube and escaped just before his ship was dsetroyed.
Arrival on Earth
Edit
...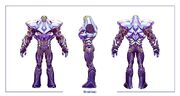 Reboot within LexCorp
Edit
...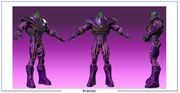 ...